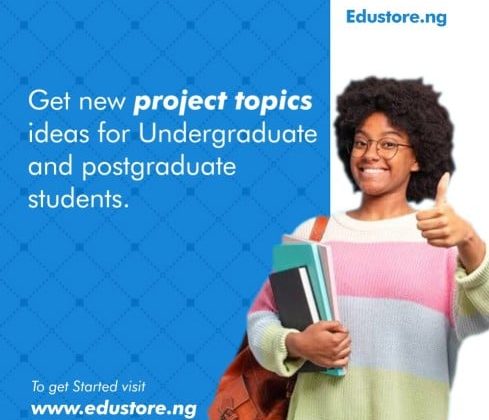 Choosing and selecting the right topic for a research project is a herculean task for many students and scholars irrespective of their field of study and level of study (First Degree, Masters and PhD). A significant problem has been how to have a new research area and could solve exiting problems in academia, industry or the nation. The ability to select appropriate research subjects is a vital talent for any scholar to possess. It's not only the distinction between producing a quality paper and coming up short on your face; it's also necessary if you want the writing to begin as quickly as planned. The significance of creating an outstanding thesis can cause students to feel a tremendous and overwhelming burden hovering over their minds as time goes by; but, following a few key steps, selecting the correct research subjects can be quick, simple, and even enjoyable. This post provides an insight on how to select the perfect study ideas in only five simple stages and without any worry.
How to Choose the Right Topic for your Project
An excellent research topic will have an available and controllable corpus of relevant studies. Choosing a topic with these features at the start of the research phase will save you time in the long run. Choosing a study topic that is intriguing, applicable, practicable, and worthwhile of your time might take a lot of time, so be ready to put in the work. Analyze the possibilities, conduct some general introduction on each one, and then choose a suitable topic to avoid many of the hassles that come with researching a topic that isn't suited for whatever circumstances.
Step 1: Make a list of potential research topics.
The most straightforward step is to hold a planning session to determine the ideal topic for you. It's nice to find something that fascinates you, but don't be scared to stretch yourself a little. Take a look at what's happening around the world and see if something piques your interest. Make a broad list of options and start narrowing down your options.
Step 2: Topic Selection
The second step is choosing a topic that may seem simplistic, but it is critical to get this step right if you want the remainder of the approach to go smoothly.  Students frequently make the error of becoming too particular early on; yet, choosing the correct topic is a logical deduction.  The goal of beginning with a definite proposal would be to save energy, but the longer you stay, getting there will benefit you throughout the rest of the work, so do not rush it.  Begin by selecting a subject area; the broader the topic, the preferable. So, if you want to write about a multidimensional topic like management, go for it! The subsequent phases will help you cement your concept and get closer to that final draft.
Step 3: Be Specific
After you have decided on a vast topic, the subsequent phase is to narrow it down. This will assist you in determining whether or not your subject has enough depth to warrant further investigation. Do not panic if this stage takes a while and you discover yourself losing your mind about the topic; after you have  nailed this phase, the remainder will be simple. The aim is to start with a broad concept and then narrow it down to a specific aspect of that subject. Then you must take that component and refine it even further. Make your topic precise by making it about management concepts, for instance, if your theme is about management. Then narrow it down even more by focusing on the impact and influence of management concepts such as strategy and competitiveness in specific areas; this is how you construct a distinctive and fascinating thesis.
Step 4: Make a problem out of your topic
It would help if you now created a question that will aid you with the topic of your work after you have a definite topic. So, if your chosen topic is "Competitive Strategies and Firms Performance", then raise specific questions such as how does competitive strategies influence firm performance? What are the dimensions of competitive strategies that would affect performance?
Step 5: Do more research on your topic and make an outline
You effectively have a thesis worth writing at this point; all you have to do is conduct an in-depth investigation on the particular subjects of your thesis and build an overview of whatever you want to convey. You are now prepared to start by writing a two-sentence response to your selected topic question. The most challenging part is over; you now have your research question in simply five steps. All you have to do now is write it! Make a list of what you want your research paper to say, how you want to express it, and how you want it to be seen as the first step.
Make a list of your objectives and goals and a timeframe for how and when you would like to reach them, but before you do so, remember to follow the five stages outlined above.