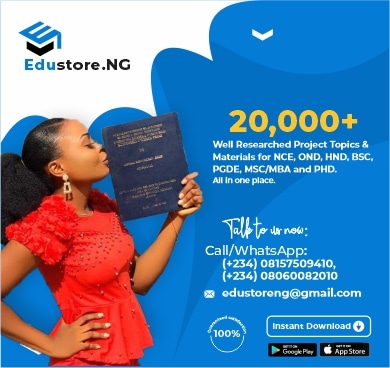 Are you a student looking for 10 Great Project Topics About the Separation Of Power In Nigeria? you are on the right page of this website.
Welcome to Edustore.NG, your education platform for all quality project topics and materials. The 10 Project Topics About Separation Of Power In Nigeria listed below are complete project works (chapter 1-5) and they are all available for instant download both in PDF format and MS-word document format.
Please Note:  Some of the complete project works listed here are available for free downloads while most of them are premium works "which means", you have to make payment to have access to the complete works.
Contents of the Project Material on Separation Of Power In Nigeria
All project topics on the separation of power in Nigeria, have their complete works and materials and ready for instant download in PDF or MS-Word format. All project topics on this website are free and the complete material comes with Chapters 1-5 including the Abstract, Proposal Samples, Table of Contents, List of Figures, List of Tables, List of Appendices, List of Abbreviations, Introduction, Literature Review, Methodology, Summary, Recommendation, Conclusion, References/Bibliography, Questionnaires.
ATTENTION⇒ SEE ALL LAW PROJECT TOPICS AND MATERIALS NOW
Please Note⇒ After picking your project topics below for submission, please save our contact so that you can contact us after approval to send you your complete material immediately.
Do you need a copy of any complete project material? you can contact us:(+234) 08060082010, 08107932631 or via email address: [email protected]
List of 10 Project Topics About Separation Of Power In Nigeria
The Doctrine Of Separation Of Powers As Its Applies In The Constitution Of The Federal Republic Of Nigeria 1999

The Challenges Of The Doctrine Of Separation Of Powers Under The 1999 Nigerian Constitution

Checks And Balances On The Exercise Of Executive Powers Under The Nigeria Constitution

Separation Of Power Among Various Organs Of Government And Its Impact On National Development

Relevance Of Separation Of Powers And Its Application To Nigeria

Legislative, Executive Relationship And The Challenge Of Good Government In Nigeria (2015-2019)

Legislative Effectiveness And Oversight Functions In Nigeria (A Case Study Of Enugu State House Of Assembly)

Philosophical Evaluation Of Charles De Montesquieu's Theory Of Separation Of Powers Vis- A- Vis The Practice Of Delegation Of Authority
How to Download Project Materials PDF
Are you interested in getting any topic? please see our Payments Instructions for more information on how to make payment and download your complete banking and finance project works from chapters 1-5 with references and questionnaires.
Conclusion
If you can't find your project topics and materials on Separation Of Power In Nigeria above, use the comment box below to drop your approved topic and we will give you feedback instantly on how to get it.
Do you need a copy of any complete project material? you can contact us:(+234) 08060082010, 08107932631 or via email address: [email protected]