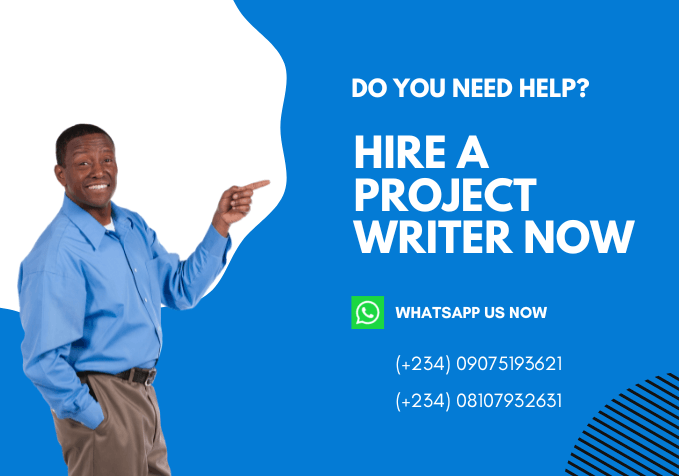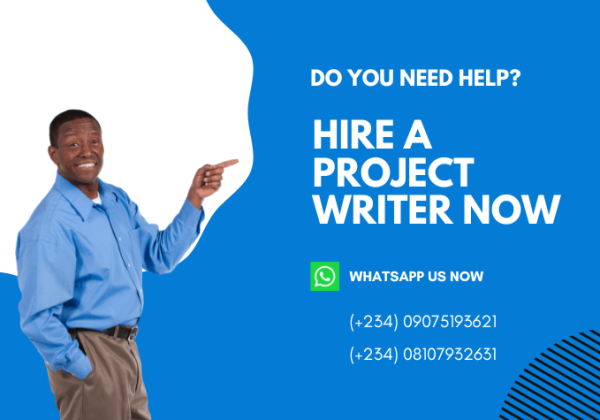 Business education project topics PDF for final year research college students acquiring NCE ( National Certificate of Examination) and PGD (Postgraduate Graduate Diploma) certificate.
Choosing the right business education project topic is important for students. The topic should be something that interests the student and is within the scope of what they are learning.
In this article, we'll be dissecting the best business education project topics for students! Here in, we'll be discussing a variety of different topics related to business education, and providing some project ideas for students who may be interested in pursuing this field of study.
We hope you find this information helpful and we wish you the best of luck in your educational pursuits!
What is a final research project?
A final year project is a research project undertaken by students in their final year of study at a university. The project is typically done in lieu of a thesis, and the topic is chosen by the student with guidance from their supervisor.
The project usually involves some form of primary research, such as surveys or interviews, and the findings are then written up in a report. The length of the project varies depending on the institution, but it is typically around 10,000 words.
Final year projects are an important part of business education, as they give students the opportunity to apply what they have learned in the classroom to real-world scenarios. They also allow students to develop research and writing skills that will be valuable in their future careers.
What is research project in business education for NCE Students?
A research project in business education can involve studying a particular business issue or topic and writing a paper on it. This type of project can help students learn more about the inner workings of businesses and how they operate.
It also involves investigating a new business model or concept, or researching a specific issue affecting businesses. Usually, research projects can be conducted individually or as part of a team.
It mostly conducted by students looking to satisfy the requirements for the award of National Certificate of Education (NCE) in Colleges of Education.
How do I choose a research topic for business education?
There are a few things to keep in mind when choosing a research topic for business education. First, think about what interests you and what you want to study more about.
Second, consider what would be the best project for you to undertake given your skills and abilities.
Also, make sure that your topic is something that is feasible to research and that has not been overly researched already.
If you are interested in learning more about marketing, for example, you could choose to research a specific marketing campaign or technique. If you are interested in entrepreneurship, you could research different business models or case studies of successful businesses.
Whatever topic you choose, make sure that it is something you are passionate about so that the research process is enjoyable for you and you don't get frustrated along the line.
What are the contents of a typical final year project research?
A typical final year project research paper will include an introduction, literature review, methodology, results, discussion, and conclusion.
The first chapter comprises the introduction, which offers an outline of the study issue and sets the tone for the rest of the work.
The literature review is found in Chapter 2. The literature review outlines past research on the issue and gives justification for the current investigation.
The methodology is covered in Chapter three. Every research work's methodology outlines the study design as well as the procedures utilized to gather and analyze data.
The findings and discussions are presented in Chapter 4. The findings of the study are presented in the results section, and the commentary explains and contextualizes the findings.
The fifth chapter is the final chapter, and it summarizes all that has been covered in the book and then makes suggestions.
The references page follows Chapter 5. All of the references are included here.
Best Business Education Project Topics for NCE and Pgd Final Year Students
Here in this section, we'll look at some of the best business education project topics for NCE final year students.
Investigating a company's supply chain and making recommendations for improvement
When it comes to business, the supply chain is everything. It's the process that takes a product from concept to customer, and if there are any weak links in that chain, the whole system can break down. That's why it's so important for students who are interested in business to learn about supply chains and how they work.
As part of a business education project, students can investigate a company's supply chain and make recommendations for improvement. This is a great way for students to learn about how businesses operate and what goes into making sure that products are delivered on time and meet customer expectations.
So, if you are in final year in any college of education and you are offering business education, this is just what you need.
Conducting a customer satisfaction survey and analyzing the results
A customer satisfaction survey is a powerful tool that businesses can use to measure customer satisfaction and improve customer retention. By conducting a customer satisfaction survey, businesses can collect valuable feedback from customers that can be used to improve the quality of their products and services.
This is part of what you will be doing if you choose to work on this particular project. The questions should be designed to measure the customer's level of satisfaction with the product or service they received. Additionally, the questions should be clear and concise so that the customer understands what they are being asked.
Once the survey is complete, it is important to analyze the results in order to identify areas that need improvement. The results should be analyzed in terms of both quantitative and qualitative data. By analyzing the results of a customer satisfaction survey, businesses can make changes that will improve customer satisfaction and loyalty.
Analyzing a company's financial statements and making recommendations for improvement
A company's financial statements provide insights into its overall health and performance. By analyzing these statements, you can identify potential areas for improvement and make recommendations accordingly.
In this study or research work, you'll be working using a certain company of your choice as a case study. You'll analyze the company's financial statements and find out potential threats where necessary and then make informed decisions.
The influence of training and development on productivity
In the field of business education, it is essential to understand the importance of training and development. This research work discusses the link between training and productivity.
Training and development are considered as two aspects which help in increasing employee's productivity at work place. Training can be provided through various methods such as classroom based learning, computer based learning etc. So in this research work, you'll be propounding how adequate training can aid development and productivity on any business.
Corporate social responsibility is the purposeful engagement of a company to do good for society and the environment. The relationship between corporate social responsibility and employee performance has been studied extensively across multiple industries and organizations.
Companies that have strong corporate social responsibilities tend to have higher customer satisfaction rates, more loyal customers, lower employee turnover rates, less financial risk exposure than those without them. So in this study, you'll evaluate how engaging in CSRs can help build the influence of a business.
The effect of advertising on a business's potential to make more money
Customers can be reached through advertising. A new product or service can be promoted through advertising, or a firm may use it to merely advance its own image or message.
Aside from promoting certain occasions and concepts, advertising can also be used to motivate people to cast ballots or donate to charitable causes.
In this study, you'll examine how advertising affects a company's capacity to make more money.
Social media is a new tool that companies may use to interact with their customers. It can be used to connect with customers, spread information about the company and its products, and promote the company and those products.
You'll examine how social media impacts businesses in Nigeria in this study. Additionally, you might need to write an article on your research for a regional news publication or website. This will give you a lot of visibility in your career walk.
The influence of vocational skill acquisition on the uptake rate of graduates in Nigeria
The uptake rate of graduates in Nigeria is lower than the average for sub-Saharan Africa. This is largely due to the fact that many students are not given enough time to prepare for their degree or certificate examinations, which means that many fail during this crucial stage of their education.
Vocational skills acquisition can help improve this situation by providing students with practical experience so that they know what they need to do when faced with an exam question.
This will also make it easier for them when writing their research work. This is because they'll know exactly how one should structure an argument based on facts from a particular topic.
The influence of leadership style on staff productivity in banking sector
Leadership style is a very important factor in employee productivity. It can influence employee retention and profitability, which are very important for the success of any organization.
In this research project, you will assess how leadership affects employee productivity by analyzing data from several banks based on their leadership styles. You will also compare these results with data from other organizations that have similar characteristics but do not use this type of leadership style.
The influence of employee retention strategies on staff productivity
Employee retention strategies are a crucial part of any business. They help you keep your employees happy, which in turn helps them produce more output and ultimately make you more money. If an employee is unhappy with their work environment or with their job itself, they're less likely to stay at the company for long periods of time.
In this research, you'll help companies and businesses learn how they can cultivate strategies to retain their employees.
How to Hire a Research Project Writer in Business Education for NCE and PGD Students
Business education project topics for students can be difficult to narrow down. When it comes to business education, there are a lot of different project topics that students may be interested in pursuing.
If you're looking for someone to help you with your research project, here are a few tips on how to hire a research project writer in business education:
First, take some time to brainstorm potential topics. Think about what businesses or organizations you're interested in and what kinds of projects would be most beneficial for them. Once you have a few ideas, start researching those topics to see if they're feasible. You may need to consult with experts in the field to get their opinion on your topic.
After you've settled on a topic, it's time to find a writer. The best way to do this is by networking with people you know who have experience in business writing or research.
Another way to find good writers is by doing some research online. There are a lot of different freelance writers who specialize in business education projects. You can check here on our platform to find some of what you want. We have a pool of good writers.
Once you have found someone you want to work with, take the time to read through their portfolios and see if their writing style is a good fit for your needs. You should also make sure that they have experience writing about the specific topic that you are interested in.
Also, ensure they are consistent with delivering within deadlines. Another thing you want to do is ensure you discuss price with them so you two don't have issues afterwards.
Where Can I Find a Good Writer for my Business Education Project Work?
The best way to do this is by networking with people you know who have experience in business writing or research. You can also ask colleagues and friends for recommendations.
Another way to find good writers is by doing some research online. There are a lot of different freelance writers who specialize in business education projects. You can check here on our platform to find some of what you want. We have a pool of good writers.
CONTACT US NOW IF YOU NEED OUR HELP
Conclusion
The major takeaway from this article is to help you find and write a convincing business education project topic by yourselves. This would help you in the long run when you start working as professionals, because you will have the necessary knowledge and skills to tackle any challenge you face while working on your projects. We also have articles for undergraduate, Masters and PHD students.