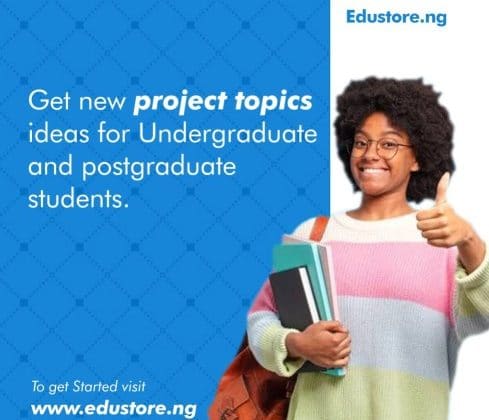 This article is about 6 exposed secret on how to get a good grade in your final year project by Olayinka Makinde a recent graduate from the university of Ibadan in the department of political science.
A research project either at the undergraduate or post graduate level  is undoubtedly a crucial and mandatory part of one's academic pursuit. It therefore demands every sense of diligence if one truly intends to ace this task by earning an A or B grade.
Having stated this, it has however been discovered that most times, some students find it really challenging and even become clueless about the appropriate way to carry out this task in getting their desired good grades.
Hence, if you are one of such students and you are currently reading this article, kindly take a deep sigh of relief as you are about to discover some smart tips on how to write your project and more importantly, earn an excellent grade.

6 Ways on How to Get Good Grade in Your Final Year Project

Below are 6 exposed secret on how to get a good grade on your final year project. These helpful tips are therefore discussed subsequently;
Wisely Choose Your Research Topic
This is oftentimes the first challenge some students encounter even before the actual research is conducted. This is particularly in cases where students have the liberty to go and find their research topics themselves like I did when I was to write mine, as against the few instances where supervisors literally choose topics for their students. Now, being faced with the duty of finding an appropriate research topic means you have to select a topic in the wisest manner possible. So, how do you go about this?. First, you need to choose a topic within a subject matter that really interests or fascinates you in your field of discipline. Doing this is actually the best way to ensure you enjoy the entire period of conducting or writing your research. Also, beyond getting an interesting topic, it is quite important to as well check out for certain things.
These include checking if the chosen topic will be designed to solve an identified problem within your specific field or if it is focused on a relatively new phenomenon that will contribute largely to the body of knowledge outside existing literature or research work. From the research topic, you can also think and confirm if the needful resources to help do justice to the project is at your disposal. Likewise, bear it in mind that your topic is not to be too narrow nor too broad in scope to give room for efficiency. You can as well feel free to visit  some research sites  like Edustore.ng and Projectgate.com.ng to see a list of topics within your academic discipline and get an idea of how to construct your own research topic. I'll like to cite my final year project topic as an apt example so as to better aid your understanding of this tip.
My discipline was Political Science and I have always had interest in security as a subject matter. Asides that, I considered the aforementioned factors to finally arrive at my topic, "Combating Nigeria's Present Internal Security Quagmire and the Advocacy for State Police". Consequently, I had no issue with getting an instant approval from my assigned supervisor when I presented the topic.
Know the Principles of Your Project Supervisor
The place of a project supervisor can really not be over stressed. From the point of topic approval to final grading, it is really advisable to know and understand the basic supervisory principles of your supervisor. I personally had a quite strict and meticulous supervisor who could easily fish out copied and pasted work that some students do. Thus, a good way to understand your supervisor better is to ask relevant information from his or her previous supervisees if they can be reached.
Some supervisors prefer a particular research style to any other style. Some other supervisors prefer to be reached out to by going to their offices at a stipulated time while others could prefer just mails and so on. Some even prefer that their supervises submit their project chapter by chapter. While some others prefer that you work on Chapter 1 to 5 at once before a review and correction is made.
Create a well thought out Proposal
A research proposal is as important as the research itself. It is the essential guide that gives you a sense of direction in the course of working on your research project. After you must have had an approved topic, coming up with a good and appropriate proposal is the next task to execute. Thus, if you can create an excellent proposal and follow it through, earning a nice grade in the entire project becomes very easy.
Many at times, the inability to come up with a suitable proposal could delay a student or lead to the conduct of a low quality research work, thereby, leading to a poor grade. It is therefore advisable to make the right findings either from the supervisor or any other credible medium.
Source for the Relevant Materials from Reputable Platforms
There is no gainsaying that writing your research project involves the consultation of right materials and previous research works that are related to your topic. Going through these materials will not only help for literature review but will also give more insights on how your project can contribute to available knowledge and pre-existing findings.
They are also very handy especially when you are to make use of secondary data for your research work. All thanks to the internet, students don't have to be limited to just libraries and archives in sourcing for materials, they can as well look for them from various credible online platforms.
Students can readily get different and appropriate materials from sites like Project Gate, Google Scholar, Jstor, Edustore.ng and so on. These materials could be in form of journals, peer reviewed articles, news paper publications, project guides to mention a few. I can vividly remember consulting the above stated sites to get so many helpful materials and it really paid off at the end.
Be actively Involved in Your Research Project
This tip is actually imperative if one is serious about earning a very good grade in the research work. Although, due to numerous reasons, people understandably hire a writer to assist them in writing the project. But as relieving as this could really be, it is also important to ensure that you be in tune and be well acquainted with the project even if there is already an hired professional writer.
This will go a long way in ensuring that all needful corrections as directed by your supervisor have been well effected and will prepare you to brace up for project defense when it is time.  It is also a major determinant as far as earning a good grade in one's research project is concerned.
Prepare Adequately for Your Project Defense
Of course, this is another vital aspect of the research work as it also determines if you will really be getting a good grade or not. So, you can not afford to be unprepared for this. Like I have already mentioned in the tip before, being well actively involved in your research project bolsters your preparation for the defense. In the same vein, you can also strengthen your preparation by making findings from your senior colleagues who have scaled through the defense panel before for likely questions to expect during the defense.
Most times, the idea behind the defense is simply to evaluate the quality of the research beyond the supervisor's comments, to ascertain if you truly understand the work you have done as well as to make any other needful correction as the defense panel deems fit. Hence, being adequately ready for this and acing it would also translate into that good grade you so desire to have in your research project.
Conclusion
In bringing this article to a close, need I reiterate that performing well in one's research project by earning a good grade  is highly vital. Many at times, it could boost one's Grade Point Average and ultimately makes graduating with a top grade a reality for students. So, if this is the experience you would like to have, you can simply help yourself by utilizing the smart tips discussed in the foregoing. You will be so glad you did!.
This article is about how to get a good grade in your final year project by Olayinka Makinde a recent political science graduate from the university of Ibadan.