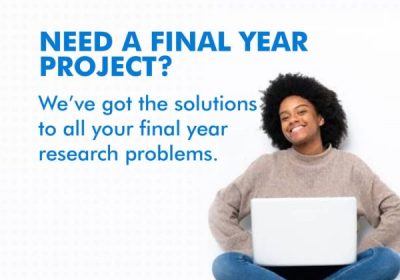 List of school project topics and Research ideas for Nigerian students. In order to graduate from the university, the student must complete a part of the educational curriculum where he carries out research in a given field of study. Although given guidance by academic staff, the student independently carries out the research within his area of study.
To begin a school research project, the first step is to carefully select a research topic. A research topic is the basis of any school project, it is the subject that the student is interested in when conducting research for his project. This starting point is where students have difficulties because they may not have adequate knowledge of the process of choosing a good project topic.
The purpose of this article is to help you understand what school project topics are and the various types. It provides information on how to choose a topic and covers the content that should be in your project. The techniques for getting good grades in the school project are also listed.
List of School Project Topics and Ideas
The Type of School Programs We have in Nigeria
There are two(2) programs in Nigeria's university system. This includes the undergraduate and graduate degree programs.
The Undergraduate degree program includes;
Undergraduate Bachelor's degree – The standard duration in Nigerian universities is four (4) years in most academic disciplines. The most commonly awarded credentials in these fields are the Bachelor of Arts, Bachelor of Science, and Bachelor of Social Science.
Nigerian Certificate of Education (NCE) – This is awarded by any of Nigeria's teacher training colleges. It is a 3-year program which teachers in the basic education sector are required to have.
Higher Technical Education – This form of education is provided by technical colleges, polytechnics, and monotechnics. It awards 2 degrees;
Ordinary National Diploma (OND) – This is a 2-year program. After completing this program, the student can be offered admission into the Higher National Diploma (HND) or choose to proceed to a university.
Higher National Diploma (HND) – This is also a 2-year program that includes a 1 or 2-year Industrial Training (IT). This degree is awarded to a student that has gone through the OND level.
The Graduate degree program is an advanced program taken after an undergraduate degree, It includes the Master's and doctoral programs.
Master's Degree – This is the first level of graduate study after a bachelor's degree. The duration of study is usually between 1-6 years depending on specialization. Two-year programs require a thesis, while one-year programs are generally based on coursework. Common master's degrees include the Master of Arts (MA), Master of Science (MS, MSc), Master of Business Administration (MBA), Master by Research (MPhil), etc.
Doctoral Degree – A doctoral degree is the highest level of academic qualification you can achieve. Depending on the program, it could take four to eight years to complete and it entails coursework and a dissertation. Categories include Doctor of Philosophy (Ph.D.), Doctor of Business Administration (DBA), etc.
How Do I Choose a School Project Topic
Research on previous works. The first step in working on your project is to find out what predecessors in your field have done. This is to guide you in choosing a field that interests you and previous works that has be done in that field. This could also help you create a new path or complete existing research work.
Seek guidance from your supervisor. A supervisor is meant to guide you and help you get started in your project work. During your research work, your supervisor which acts as your guide might give you some topics to work on or might give you the freedom to bring in your research ideas. The former brings an underlying advantage in which it could expose you to a field that would challenge your ability or creativity and this eventually positions you for even better fields.
Study other literature works. Another way to select project topics is to work with other articles or journals in your field. This exposes you to work with a large pool of resources and references. Endeavoring to study these resources helps in generating topic ideas.
Embrace the creative challenges. Working on a certain project might require integrations from other fields. This could be interesting for you if get comfortable with it. Seek your supervisor's mentorship if this approach is too complex.
What Are the Content Needed in a Project
There is a standard format to follow which will guide you in writing your school project.
Title page – Title of the project
Approval page
Dedication
Acknowledgment
Research abstract – must be limited within 350- 400 words
Table Of Content
List Of Tables
List Of Figures
List Of Symbols
Chapters
List of references -should be arranged in alphabetical order
Appendices (Where Applicable)
How to Get a Good Grade in Your School Project
Follow your supervisor's guidance. Your supervisor is a key factor in your project's success. Researching on your topic might give you new insights and information unknown to he/she but they have the experience to help you chart your course.
Get to know previous researchers. These people could be within your reach like your supervisor's former students or your location. Do well to seek their counsel regarding your project as this adds speed to your project journey.
Study old research works by your supervisor. Your supervisor can also give you articles or journals that you can look through that will give you further information about your research work. This knowledge helps to expand your scope.
Do your research well. It is not just enough to work on a piece, you must do adequate work. You can get your information from your school's library, reputable websites, online research communities, etc. Ask questions where necessary and work on projects that are relevant to your community.
Properly reference, edit where necessary. This is the last stage after writing your project, make sure to reference all resources where your information was gotten from. The process that must be repeated over the course of the project work is editing, you must make sure to check the correctness of the rules of grammar, your punctuations, spellings etc.
Accept Feedback. Given your research work, you must be open to constructive criticism and feedback from your supervisors, colleagues, and teammates(where applicable). This will expose you to new perspectives and ideas.